Specialty Counseling Services In Loveland
Dr. Beth Firestein is a licensed psychologist who understands that no two people are alike and that everybody has their own set of unique problems and challenges. At Inner Source Psychotherapy, Dr. Firestein offers many diverse counseling services. Dr. Firestein received her Ph.D. in Counseling Psychology from the University of Texas at Austin and has pursued extensive post-doctoral training. She has also conducted trainings for other professions in her areas of specialty. Her specialties include working with older adults and assisting lesbian, bisexual, gay and transgender individuals and couples and other individuals with alternative lifestyles to live happy and fulfilling lives. Her approach integrates her professional mental health training with her deep understanding of marginalized and underserved groups in society. Her primary specialties are described below in greater detail.
---
Sexuality
Sex is a touchy subject in our culture, evoking many different emotions.  Sexuality is a core element of the human experience. Whatever your view may be, counseling may help you to better understand your view and its connection to your desired relationships and societal attitudes.
People think about sex and sexuality in many different ways. Some people have conservative beliefs and view sexuality as always tied to reproduction, marriage and family, while others view sex in terms intimacy, spirituality, and as a very personal dimension of one's self-expression. Younger people may also view sex and sexuality differently than older people. Many people struggle with guilt and shame over wanting to have sex or over the kind of sexual expression to which they feel drawn.
Whether you are seeking couples therapy or a personal psychotherapist, I can help you better understand yourself and your sexuality. My approach is to provide education about sexuality, assist you in clarifying your sexual issues and needs, and helping you address sexual problems—whether physical or psychological.  I do this by creating a non-shaming, accepting atmosphere with the assurance of confidentiality and a gentle approach to the exploration of these delicate issues.
---
Counseling Seniors & Aging Issues
Aging often brings challenges for which we are ill-prepared.  Both men and women face a variety of difficulties as they get older:  health challenges, moving into other forms of residence, losing older friends or spouses, and working out relationships with adult children and grandchildren just to name a few of them. As a psychologist, I specialize in working with older adults who are struggling with a variety of life issues.  I believe in coordinating care with other medical or wellness practitioners you may be working with in order to provide a comprehensive, well-integrated approach to the multiple concerns connecting with becoming older.
A further specialty includes individual therapy with women in their 60s, 70s, 80s and 90s. Six years ago I began a community-based support and discussion group for older women called the "Wise Women's Support and Discussion Group."  We meet every other week from September through May. For additional information write me at DrBethFirestein@bethfirestein.com or call my office at (970) 635-9116.  Meetings are held in Loveland, Colorado.
Wise Women Support Group Information
---
LGBT Support and Counseling Services
Gay, lesbian, and bisexual individuals are one of the most misunderstood and stigmatized groups in society. Being different from the heterosexual mainstream is frequently equated with being "deviant" or psychologically disturbed. Research has shown that the greatest difference between LGB individuals and heterosexual individuals is in how they are treated by society. Fortunately, this is changing and GLBT people are no longer viewed as mentally disordered by the field of psychology; rather they are views as multi-dimensional, fully-functioning people with strengths and talents that contribute significantly to the larger society.
I have over 30 years of experience working with bisexual, gay, lesbian and transgendered individuals, couples and their families. I have done research, written books, chapters and journal articles on LGBT counseling for bisexual, transgendered and queer clients, and have presented extensively to students, therapists and lay audiences on many aspects of GLBT culture, identity, and psychological issues. I use a model of self-acceptance, identity integration, pride, self-empowerment and building community to enhance the lives of bisexual women and men, gay men, lesbians and other queer-identified individuals.
---
Gender Identity and Expression
Over the past 21 years I have had the opportunity to work extensively with people who have non-conforming gender identities. Gender identity differs from sexual orientation. Gender identity relates to one's fundamental, internal sense of whether one is female, male, bi-gendered, or gender-fluid. Transgender is a broadly applicable word applying to cross-dressers, transgender and transsexual individuals, intersex individuals, and others who live in non-conforming gender roles.
Individuals seek counseling services and therapy at many different stages of their gender journey. Some individuals come to therapy to explore feelings of being "different" that may have to do with their sense of gender. Other people come to therapy knowing that they are transgender but struggling with self-hatred or non-acceptance from within themselves or rejection by loved ones. Many are seeking to find a safe place to express their thoughts and feelings and make decisions for their own personal future.
I work respectfully and confidentially with individuals everywhere along the gender spectrum. My approach is non-judgmental and non-directive. I do not tell people what gender they should identify as nor what path to take in expressing their gender. I see my role as providing information, education, support and providing clients with the options available to them in living their lives in more authentic and fulfilling ways.
I also help individuals with coming out to family members and friends, overcoming internalized trans-negativity, accessing support systems and community, and understanding all that is required and involved for accomplishing gender transition, if they choose this path. Transition steps involve assessment, counseling services, hormonal therapy, and surgical interventions if desired. My approach operates in strong accordance with the WPATH Standards of Care for treatment of transgender and transsexual individuals desiring to transition.
---
Additional Services
---
Books:
Bisexuality: The Psychology And Politics Of An Invisible Minority
Beth A. Firestein, Ph.D., Ed. 
More Info or Buy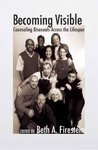 Becoming Visible: Counseling Bisexuals Across the Lifespan
Beth A. Firestein, Ph.D., Ed. 
---